Paris Trip Match Report - by Nat Guyot
PRE-WARNING: This is a very long match report but it was such a big adventure it needs a big story to go with it so read it if you dare and good luck if you want to finish it!!!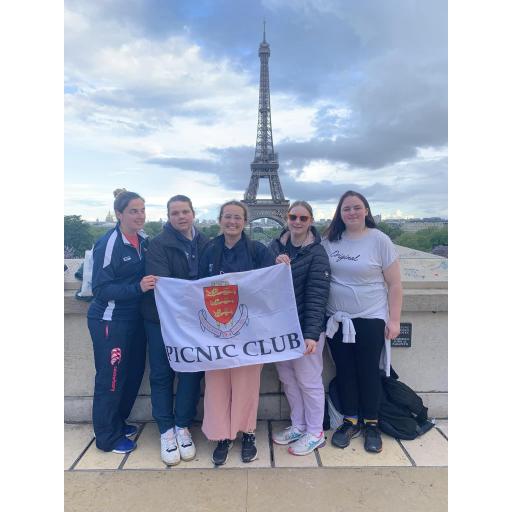 Chapter 1 - The Joke That Was Taken Seriously
Once upon a time in a cricket club far, far away sat a group of people hiding from the rain. No cricket had been played at King Street that day and cricket the next day had already been called off. Around the table sat some very bored cricketers with nothing to do. It was quite a sorry sight. But alas, we had to think of something to do the next day. One might call it "team bonding." Top golf was thought about. As was a quiet day playing board games at the club.
But suddenly, a joke was made. Maybe we drive to Paris? You couldn't have thought of such a crazy idea. The table silently laughed a bit. It might be important to add, no alcoholic beverages had been consumed by anyone at the table that evening. This was a completely sober idea. No alcohol was involved to help add to the crazy. Each person thinking how insane that would be. Imagine, a rained off day of fun and instead we left the country for the day, all heart broken there was no cricket, running away from our problems. But the idea had been spoken. The spark had been lit. Was this possible? Was there a chance? Turning to trusty Google Maps for advice. Only 7 hours. We would've spent less time in the field. And only £22 for the return ticket on the Eurostar train each. Well that's just more than 2 match fees. The spark had caught fire.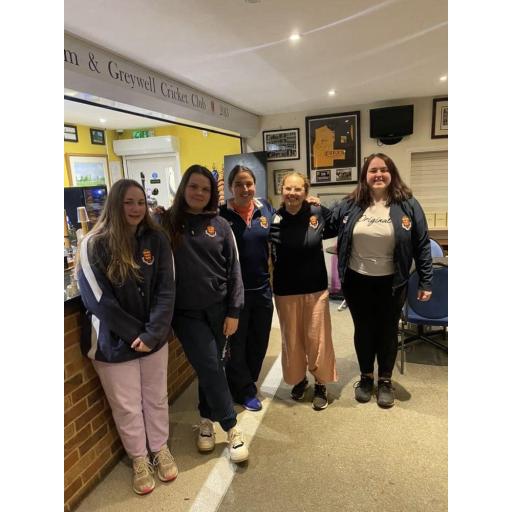 Chapter 2- The Plan
There was doubt. Laughter. No one believed we would actually do it. We were all doubting. Phone calls were made for permission. Permission was granted. We were really being seriously. As the impossible slowly became the possible, we had to get sorted. Tickets were booked. Passports collected from bedrooms that would be empty for the night.
Bags packed with the essentials (lollies, deodorant, definitely passports, chargers). An adventure awaited us. The plan was that we would leave that night, spend the day in Paris after arriving in the morning and get back before the sun awoke on Monday morning. 24 hours just about. Our brave travellers were insane. We had lost all of our marbles. We were a couple sandwiches sort of a picnic. Loose cannons ready to explode. Put the insanity made us more excited. What were we even doing? We couldn't believe it ourselves. We packed ourselves into the car. Billie, Becky, Emily, Henry and Aussie Nat in one car. Liam, Emma and Charlotte in another. We said goodbye to all the sensible and responsible people we left behind, with John's parting words being "Make sure you don't behave."
Parting is such sweet sorrow but not really since we were going to Paris!! Just as they say in one of the greatest movies of all time (and with the saddest opening scene of all time), adventure is out there! And we went to take on our adventure for the day!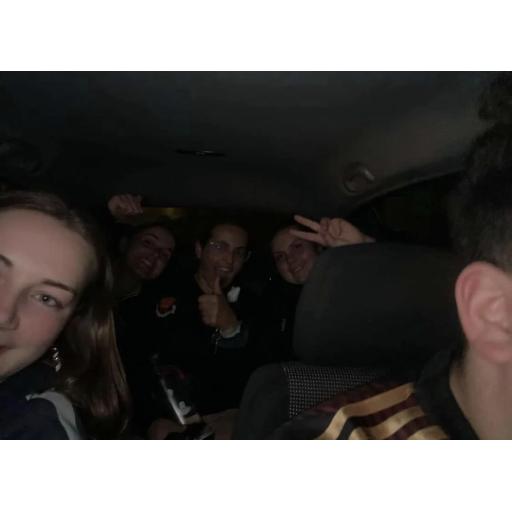 Chapter 3 - The Journey
We began the journey. Gallivanting across the continent. A little bit squishy but ready for an adventure. Not quite believing what we were actually doing. Henry driving one car and Liam driving the other, with the help of a booster seat to see over the steering wheel (and yes I was bribed to mention that).
There was some interesting but overall pretty good music choices on the way to the tunnel, including Henry's rendition of Peaches from the super Mario movie. We played some car games, such as the classic shag marry avoid and having a little dance party, and we had arrived at the euro tunnel. Our tourists were quite confused about the exact workings of the tunnel. It was a tunnel with a train that you don't drive it in but your cars in it and you go under the channel but you can't see the fishes. That was a very confused version of the explanation but luckily there was some diagrams in the terminal for us to ponder over, which honestly lead to more questions but we move on.
The girls refuelled with a Starbucks and some food to hopefully give us a food coma. Emily was a bit dazed and kept spilling her drink all down herself, making it look like she had dribbled or peed herself. Either way she had lost control of herself. We sat around in some couches similar to the club's and thought what the heck are we doing here. A random Saturday night and we have decided to wander off to Paris for the day. Are our brains in a lost and found box somewhere? If anyone knows where they are could you please send them before the next time a game is called off otherwise you'll never know where we could end up. I couldn't stop laughing at the sheer insanity of it all. It's honestly crazy.
Back into the car and into the mysterious tunnel we went at 2.42am on Sunday morning. We quickly passed through passports, with Becky being Mother Becky and holding onto Billie's passport for her (just in case). We didn't get to be on the top level but were still excited to be on our super fast train. Our teleportation device to another world (country), our magic carpet from Aladdin or our wardrobe to Narnia. It wasn't a very exciting trip as the tunnel wasn't made of glass and it kind of smelt a bit but it got us there quickly.
At 4.45am Paris time we were released and free in another country. It was nap time in the car as batteries needed to be recharged as the sun slowly started to rise. We passed some cool fields and lots of wind farms. We were a bit in backwards world with Europeans driving on the other side of the world but we move on. A couple more conversations about random stuff and Paris we were in. Everyone had a little sleep except Henry, so we were wide eyed and bushy tailed. Liam at this point had gotten lost. Instead of meeting us on the outskirts of Paris and getting the train in, he had decided to follow Madeline and get lost in Paris. He was not a part of the school trip and just decided he knew better than professor Google, with the directions not being for him (Editors Note: Standard Napoleon behaviour). Only arriving 30 minutes late with us waiting on the platform, the Power Rangers had come together and our magic limousine (also known as a train) to Paris awaited.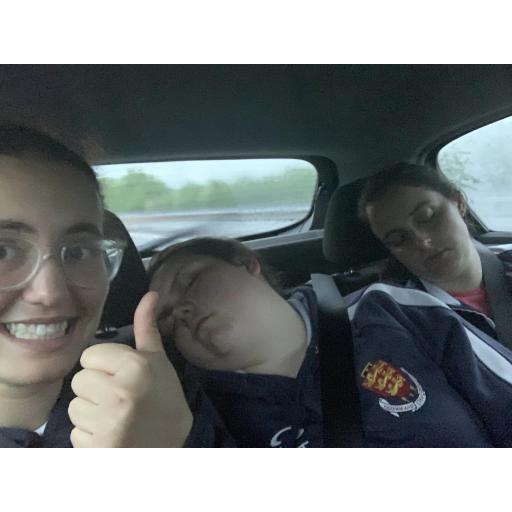 Chapter 4 - The Arrival
Our train journey into Paris resulted in us nearly falling off balance from delusional tiredness. There was rain outside, so we equipped ourselves to face the weather both annoyed the weather had followed us to Paris but equally grateful as if it wasn't raining we would be on a cricket pitch instead of trailblazing across Europe. The metro was about to explode with a lot of hyped up energy as we entered Paris and Emily was actually in Paris. The train station was very uneventful. Baguettes were purchased and toilets, as we paid €2 for a poo.
We parted with Liam and Emma as they went off to enjoy a romantic day in Paris (with Liam slightly less annoying now than last night when he realised he had to drive). Girls on tour stepped out into Paris for the first time. Nothing much exciting yet. It was raining and a little cold but our explorers needed some fuel in the form of some fun free snacks, a monster and a vape for Billie the explorer. We then spotted a Subway and the first photo with the Picnic Club flag had to been taken and sent to Phillip as a reminder of when he tragically lost a Subway on a tour in Torquay (and I have no idea whose fault that was and am 100% not guilty…).
We decided to wander up to Montmartre and Sacré Coeur to start the day. I (on purpose) forgot to mention how many stairs we had to go up, so as we plodded along the cobblestone streets of Paris. Everyone was blissfully unaware of the workout that was about to come. We passed some fancy dress shops and found one called Bill. Obviously Billie had to get a photo in front of it and Becky courageously tried to get all the angles by squatting on the edge of the road, causing a car to swerve around her.
We passed our first boulangerie. The detour was completely necessary as this was the place of my dreams. Imagine if you were in heaven but with all the pastries and bread goodness you could imagine. That was it. It was perfection. The windows were filed with every type of bread imaginable and inside every surface had some type of buttery floury goodness. I think we would've devoured the whole shop if we had time. Eclairs, croissants, mini cakes, tarts, quiches. They brought out a warm tray of pain au chocolates and mine and Becky's choice was made with the classic and Emily got a cinnamon scroll. It was one of the best things I've ever tasted in my entire 19 and 3/4 years of living. It was buttery and sweet and flaky and the chocolate was a little bit warm. It was so light and airy that it started blowing away in the wind.
We wandered up the subtle incline and turned the corner. The stairs appeared. The inhalers made an appearance. After the first set of stairs everyone was breathing a bit heavier. Everyone then saw the next three sets of stairs. In between all the heavy breathing was everyone swearing at me for making them walk up so many stairs. A couple breaks were needed on the way up and jumpers had to be taken off. I had to make sure I was at least 3 steps in front of everyone to make sure they wouldn't strangle me. There were some clouds around and I would actually get killed if we couldn't see the view from the top. Our brave crew pushed through and kept going. We were cricketers after all and being tired while still working hard is what we choose to do every weekend anyway. We are athletes on a tour. We can handle a few stairs, right? Everyone wanted to sue the Aussie as well as getting punched in the face but it was a bit late as we were halfway up. Calves burning and legs about to fall off. We were so close, but would we make it? And if we did make it all the way up would the view be worth it???