The Origins of Cricket – The History of Two Hampshire Clubs
The Origins of Cricket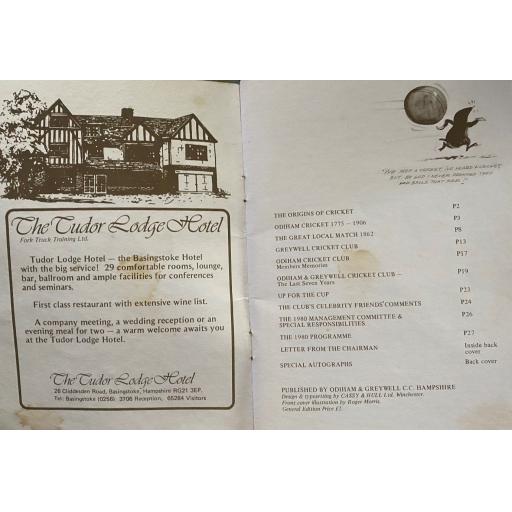 Cricket is recorded from about 1530 but the game was then banned and only became fully legal in 1845. It is known that the Hambledon Club began in circa 1750, and it is possible that Kent and Surrey can also claim this as a significant date in the real birth of their game. Of considerable note is the fact that the MCC was formed by a President of Hambledon in 1787 when the geographical centre of Lords became more attractive than the Downs of Hampshire.
In 1756 Hambledon played Dartford in Kent, James I having granted two fairs a year to Hambledon in 1612 thus, temporarily, giving legality to their playing of cricket. Since the game always attracted mammoth bets, one wonders about the extent of monies which must have changed hands, both on the field of Hambledon and elsewhere in and out of the County of Hampshire during the formative period of the game.
In 1769 the Hambledon Club was in a run-down condition, although owing to a fire at Lords we that their stored records are incomplete. However, 1771 was an important year for Hampshire cricket, in that Hambledon beat Surrey by one run. They played Kent in 1775 but in 1776 it appears that the Hambledon Cricket Club was wound up. One must remember that in those days the game was played five a side with only two stumps and the ball going between, on a number of occasions, without disturbing the bail!
Hambledon Cricket Club bounced back to full existence in 1777 to beat Kent in a three stump game and against the background of this Club must be seen the development of other cricket clubs in Hampshire. Their historical dates are also interesting and significant, but since Hambledon is so famous, a conclusion to that Club's story provides interesting backcloth to the history of Hampshire cricket and the present Odiham and Greywell Club.
In 1782 Hambledon Cricket Club changed grounds, and during that year batsmen began playing forward for the first time. This forward play was necessary to combat David Harris, the new fast bowling threat. Harris, a potter from Crookham, near Odiham, in many ways contributed to the style of batting as we know it today.
War with France in 1793 depleted Hambledon's membership, and in 1795 there were only 43 remaining members. The final entry of the Club's Minute Book in 1796 reads: "no gentlemen". This fact meant that the Club was finally disbanded. We remember today Hambledon Cricket Club, probably the most famous of all cricket clubs, for a number of reasons, pioneering the game, the patronage of the Duke of Dorset and a relatively short period of existence (circa 1756 – 1796).
Other clubs many not be so well recorded as Hambledon but they have survived and developed the game. In this book we record some of the facts we have found of both Odiham and Greywell Clubs, merged clubs of great history, and situated but a few miles away from the Hambledon field. We owe much inspiration to two factors – a need to record history for our children, and the hard need to improve the Odiham and Greywell Cricket Club economics. 1980 sees the first O.G.C.C cricket on a new ground. The Butts, Odiham. The Odiham by-pass being driven through the old ground forced an ambitious project on the Club. Hambledon may have discovered cricket, but like the great boxer Mendosa who fought bare fist in an Odiham dell, Odiham and Greywell Cricket Club will also battle on with both confidence and enthusiasm.
Odiham Cricket 1775-1906
The first recorded match played by Odiham was against New Alresford in the late summer of 1775. The match was played at Alresford and Odiham lost by a margin of 26 runs. The composition of the Odiham team is probably irrelevant owing to the following comments on club continuity and the use of "mercenaries".
One of the most important factors in the history of cricket clubs, is that in the early days of the game at the end of each season it was usual to call tradesmen, members and other debtors and creditors to an annual meeting with the object of presenting bills or paying dues and wagers. Effectively then, the Club was wound up and usually re-formed the following year.
The second most relevant factor in early cricket was the wide use of "mercenary" players. For example, the Odiham team at Alresford included three "guest" players – picked men from Farnham and Bentley.
The early club game was structured in a way we do not know now. A "Club" would consist of gentle men (land owners, military or professional men) plus hired "assassins" (strong, talented ball players, usually of lower born or lesser opportunity stock.) A working man with talent would be paid and transported free of charge to and from matches. One can imagine a comparative situation to prize fighters, since the sponsor would expect a return on his investment from successful bets with other gentlemen who also offered their proteges for combat.
The greatness of Alresford and adjacent clubs seems to have expired by 1800. However, Odiham had in any case beaten Alresford on Tichbourne Down by 33 runs in 1787. "Silver" Billy Beldham, the great Hambledon batsmen played in this match for Odiham and one wonders at the cost to the Club of this 'hired gun'. As a matter of interest probably the greatest side Hambledon ever fielded included David Harris of Odiham and Billy Beldham.
Local records of the Odiham Club for the period 1787 to 1823 are non-existent it would seem, but in 1823 Odiham played Basingstoke at Basingstoke and in 1824 a home fixture took place. In 1825 eleven of the employees of Odiham, Greywell and Warnborough Wharves played an eleven of the Basingstoke Wharf for 2/6d per man. Basingstoke were the richer at the end of the game having won by nine wickets! Games between Odiham and Basingstoke were a regular event in the 1800s. One of the most interesting or perhaps frustrating started on the 8th September, 1834. It followed a match won by Basingstoke against Odiham and North Warnborough at Basingstoke on 25th August 1834. The return match started on September 8th but did not finish until September 16th! Although Basingstoke won the first game at home by only six runs, the return at Odiham was a more decisive victory for the bigger town, there being four Basingstoke wickets in hand at the end of the match.
The 1835 season seems to have given Odiham revenge. An eleven of Basingstoke, Basing and Hackwood confronted Odiham and North Warnborough at Basingstoke on 20th July, and Odiham and North Warnborough won by four wickets.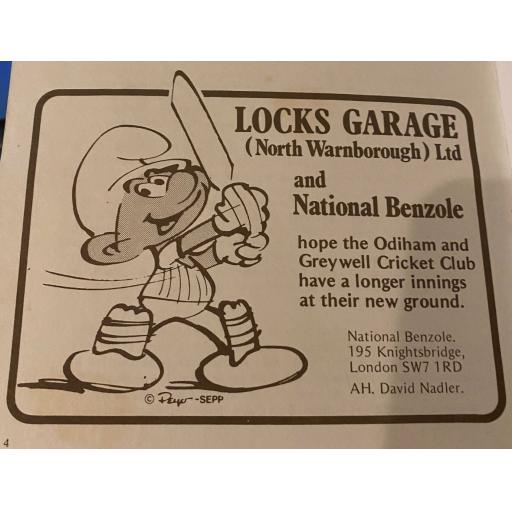 1843 was a year of great interest and suspense in Odiham versus Basingstoke battles. On the 3rd August history has it that Odiham lost at home by nine wickets, but redeemed themselves in the return at Basingstoke a week later by a nineteen run win. The "conquering match" as the deciders were called, was an anti-climax. Played on 4th September, 1843 it ended in a draw. Records we have available show few early match results other those already mentioned, and other games versus Basingstoke. For example, Odiham beat Basingstoke on 19th August, 1853 by 47 runs, on 30th July, 1855 by 7 runs, and on 20th August, 1855 by one wicket. On 21st July, 1856 Basingstoke beat Odiham by 24 runs.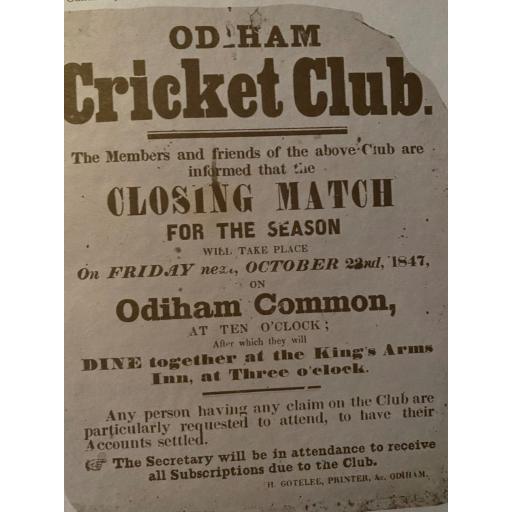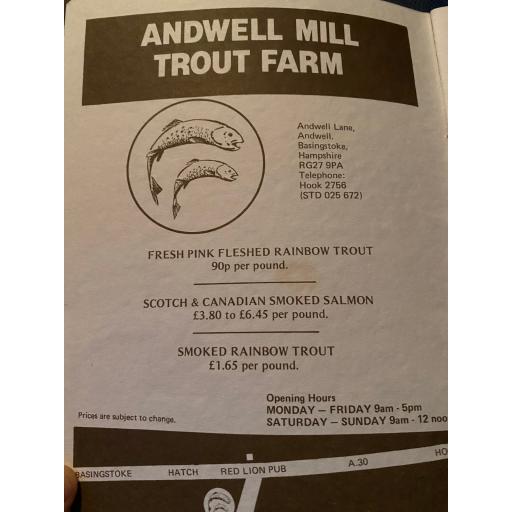 Odiham played regularly in the 1850 – 1860 period against Basingstoke, Godalming, Guildford, and other clubs, and they ran a colts side with Odiham lads, who although recorded as being beaten twice by Basingstoke lads, are also recorded as having beaten them in 1856. Odiham cricket was certainly played on Odiham Common in 1847 and no doubt before then. The reasons seem to have been long in duration, since the closing match in the 1847 season took place on 22nd October of that year! That game started at 10:00 am and finished with a dinner at the King's Arms at 3:00 pm.
The overlap between the Odiham Cricket Club and Greywell Cricket Club was evident during the 1800s for instance Mr T.D. Porter, a Greywell Captain apparently played for Odiham in 1853. Notable in early Odiham cricket were such names as the Frere bothers, who became celebrated in County Cricket, Aaron Cooper, Charles Heath, Henry and Charles Seymour, Charles Monk and Decimus Trodd. During the mid to late 19th Century these stalwarts helped to build a Club which has gone on providing cricket and social facilities to those interested in the game.
It is some years since Odiham has provided an exceptional player to the County, but David Harris was a local lad, Billy Beldham saw fit to play at least once for the Club, there Freres were involved in Odiham cricket and C.S. Bodington, son of the Rector of Upton Grey, was "brought out" by Odiham Cricket Club for the benefit of the Hampshire County Eleven. There may have been others in the past, and there certainly should be more in the future.
We will dwell on early cricket in Odiham for a little longer. Let us remember Dr. Angell James, Mr. Tobias Frere – the father of the Frere "boys" – Edward Porter, all of whom contributed to records in one way or another. Let us also consider the many pubs which existed in Odiham during the 19th Century including the "Cricketers". From this hostelry Edward Porter ran The Grasshoppers Cricket Club fir seven or eight years. This club played about twelve matches a year, and at its death in about 1890 Odiham cricket also died. The continuity of cricket on the Common was broken, anyway, in about 1875 when the game moved to the park. However, after approximately four years it was back on the Common, being forced away from its new venue, it would seem, by tennis.
From 1890 to 1895 competitive cricket in Odiham appears not to have existed, but the game was revived in that in that latter year principally though the efforts of Dr. Angell James and a Mr. Reynolds. The new President was the late Sir George Petre, and so began a new era of Odiham Cricket which under the Petre family was to continue for many decades. Under the captaincy of Dr. James, The Odiham Cricket Club flourished. During his first season 17 matches were played and an average of 20 matches per year became the norm. Of the 19 games played in 1905, 12 were won, 6 were lost and one drawn. The Odiham team were all local players and the matches were against good clubs of the day. One member took 67 wickets in a season for an average of 6 runs.
A security of land tenure existed, since 1898 a piece of ground was enclosed for cricket on Odiham Common.
The turn of the century forged yet another link between Odiham and Greywell; an arrangement with Mr. R. Mulford, of the Greywell Club, which resulted in an annual match against the strong London and South West Railway team, which lasted for 25 years.
We close the early days of Odiham cricket at 1906. A following chapter deals with The Greywell Cricket Club who were to merge with Odiham much later. From 1906 to the present day is more recent history and we trust that the last sixty years will provide the reader with less basic facts ad a more personal comment by those involved with local cricket today.
Commenting, finally, on Odiham Cricket Club's early days, we cannot pass without reference to the fact that one of the well known early Winchester Club players was H. Misselbrook. This Misselbrook kept the Cricketers Inn at Otterbourne and was familiarly known as "Father Misselbrook". The worthy Secretary of Odiham from 1976 to 1979 bears a similar name and was educated at Winchester College, coincidence? Some Odiham players at the turn of the century included A. Cooper, C.I. Barton, A. Childs, C. Gotelee, H. Sether-Smith, W. May, P. Burton, H. Bailey, G. Freeman, G. Neville, N. Scooners, W. Jeames, R. McIntyre, J. Angle-James, J.A. James, S. Loader, and I. Bodington.
The Great Local Match
In Greywell Village Hall there is a glass case containing three stumpts, varnished with metal tops. The stumps are roughly of today's height. The case is labelled as follows:
"These stumps were used in a cricket match between a local team of twenty-two players and an All England XI at Greywell September 8, 9, 10 1862".
Alongside this case is a copy of the score sheet which reads as follows:
"Extracted from Scores and Biographies Vol 7 p 425".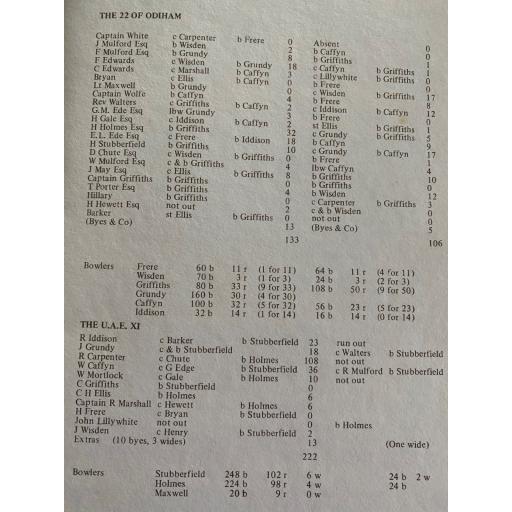 Colonel May of May's Bounty fame and one of the most respected latter day figures of Hampshire Cricket, painted a picture of the match at Greywell in his book, 'History of Cricket in North Hampshire'. He stressed that there were 1500 spectators on the second day, and the United XI, which included Wisden and Lillywhite, stated that the wicket was the best outside London. On the third day it was very wet in the morning and the United XI were six for four chasing eighteen runs to win. Needless to say England won, and the men of the Odiham area who participated in the match, could only but wonder where they went wrong. This is clearly indicated within the Scorecard!
A few comments on some of the United All England XI players:
Roger Iddison (23 and 0 against Odiham etc) Born in Bedale, Yorkshire in 1834. Played his first match at Lords in 1862. With G. Freeman was founder of the United North of England XI in 1869. Mainly a batman, but something of a lob bowler (1 for 14 off 32 balls against Odiham).
Robert Carpenter (108 and 8 not out against Odiham etc). Born in Cambridge in 1830. W.G. Grace said of him: "he may be safely placed as one of the finest of our great batsmen, his defence considering he did not play forward, being perfect". Grace commented at some length on Carpenter including: "breaking the hearts of many a twenty-two, who saw victory slipping out of their grasp owing to his patience and coolness". Carpenter, who played with and against Grace sharing a hundred partnership for England at Lords against Yorkshire, and Notts, commented that is was harder running between the wickets with Grace than chasing the balls Grace hits around the field!
William Caffyn. Born Reigate, Surrey in 1828, he was the crack Surrey player for many years and a member of the first England team to visit Australia at a very high salary, and is considered the originator of quality Australian cricket. He played alone in 1860 against XI of Winchester. A single wicket match, Caffyn scored 35 and 1; Winchester 4 and 4 and Caffyn only has two fielders.
Henry Frere. Born in Odiham in 1830, was one of the most famous local cricketers. "MCC Score and Biographies" describe him as Hampshire's best bowler, and he player for fourteen of the County against an all England XI at Southampton.
John Lillywhite. The Lillywhite family are from Sussex. William Lillywhite died in 1854, having bowled illegally overarm during part of his time. The family are famous for the sale of cricket equipment and books, and were all nationally known cricketers.
John Wisden. Born in 1826 and at 36 years of age can be considered to be in his prime when he played against the Odiham area XI. His bowling figures in this match are particularly interesting, and if one considers that in 1850, playing for the North versus the South, he took all ten wickets clean bowled, it is a miracle our older day local heroes survived at all. He is recorded as bowling balls that turned a yard from the off! A 5' 4'' he was a fast round arm bowler who later turned to lob bowling. John Widen is of course the founder of "Wisden's Cricketer's Almanack".
A few of the comments on some of the "22 of Odiham etc. with Holmes and Stubberfiled".
There were in fact twenty-two including Holmes and Stubberfield! It was usual for the United All England XI to play 22 of an area, such was the difference in the standards of their game from the local level.
Three Mulfords played in this match. W.H. Mulford was one of three brothers who practically started the Greywell Club, and kept it going for many years. The family were timber merchants and were largely responsible for the opening of Hook Railway Station, having brought pressure to bear on the London and South Western Railway Company. W. H. Mulford was also a member of the Hartley Row, latterly Hartley Wintney Cricket Club, for twenty years.
The Ede Family were founder members of the Hampshire County Club.
H. Holmes played for Hampshire and scored 57 and 64 against Bucks, in 1866.
Bryan. Probably one of the three brothers of Basingstoke, noteworthy in County Cricket.
D. Chute. Probably the Rev. D.W. Chute, once Rector of Sherbourne St. John. Vyne Cricket Club.
T. Porter. No doubt T.D. Porter of Well, famed as a captain and Odiham and Greywell cricketer.
Barker. There were so many active Barker cricketers in the area, including a Basingstoke Captain, it is difficult to identify which one played in this match.
No story is without a mystery, and we must admit that Holmes and Stubberfield are to us, 'mystery men'. We cannot easily trace them so we leave the matter to the 'Holmes and Watson' in you, the reader. We have discovered that Stubberfield also played for the 22 of Hampshire against the United All England XI in 1861, and 1862. Holmes scored 74 for the players of Hants versys 14 Gentlemen of the county in 1865.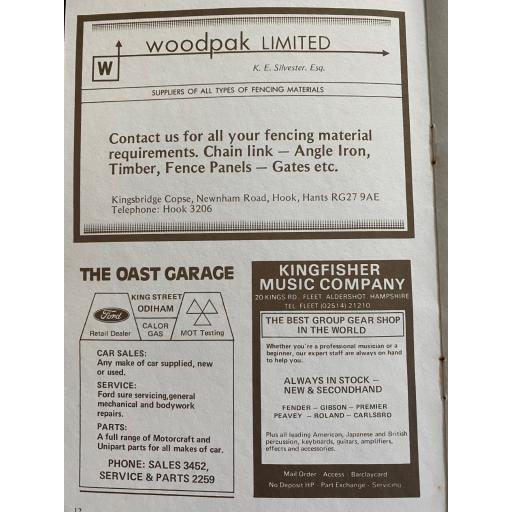 Greywell Cricket
The Greywell Club would appear to be of more recent origin than Odiham, although available records may be insufficient to substantiate this. We can trace a start date of the Greywell club in 1858, and there are references to matches versus Alton up to 1872.
The Vyne Cricket Club came into existence in the 1850s, and the patron was the Chute family. In 1863 they beat Greywell by an innings and 13 runs.
The Greywell players were: T. Mulford, P. Mulford, Woodman, E. Paul, F. Edwards, W. Mulford, J.D. Porter, Barly, Boyd, R. Mulford, T. Barker, Peter Woodman was the 'father' of the then unexpired Upton Grey Club.
On another occasion the Vyne played Greywell and won by one run (scores 21 to 20!). In this match T.E. Bagge of Cambridge University played for the Vyne and immediately prior scored 62 and 60 for the Gentlemen versus the Players. Against Greywell he bought "a pair of ducks" and the Greywell players are recorded as saying "we did not think much of that Gentleman's play".
The Mulford family were the prime movers in early Greywell cricket, and it would seem their influence was considerable. There were four brothers – Willam Henry, Robert, John James and George Frederick. Also involved in the early times of the Greywell Club were four brothers of another family – the Seymours; John, Edward, Henry and Arthur. These were members of an old banking family belonging to Odiham.
Other early Greywell cricketers, including Platts and a Platt, the latter being from Up Nately. The Captain was Thomas D. Porter, a farmer from Well, previously of the Hursley area near Winchester.
The Greywell team usually gave a good account of themselves against the Vyne, Alton, Farnham, Beech Hill, Oakley Park, Hackwood Park, Frensham and Holybourne. The ground was in a meadow near St. John's Castle on the Basingstoke Canal, and the club appears from the records to have existed continuously until 1872, during which time (14 years) they played around 180 games winning about 110 of them. Only occasional matches were played after 1872 until 1884 when F.S. Cole took over. In 1894 Mr. Cole left Greywell and a new Mulford took the reign – Mr. J.F. Mulford – he was still in the 'driving seat' in to the nineteen hundreds.
The significance of Winchfield in 1889 is apparent by the note in the Greywell score-book of that year "Greywell Cricket Club, Winchfield, Hants".
Ont eh 19th July, 1889 Greywell played Hackwood Park – the Raynbird Family Club. Hackwood scored 110 in their first innings, Grewell 149. An encounter later that season was against Winchfield.
The Ennismore Club were played ont eh 9th August. Ennismore batted first and scored 65 all out, and Greywell 47. Ennismore second innings 53, Greywell 59 – a twelve run win for Ennismore. A match against Basingstoke Wharf (the Basingstoke Canal Company employees) brought the following scores: Wharf 34 and 9 for 3 and Greywell 33.
In a match against Cambridge Hospital, Aldershot on the 24th August, Greywell batting first scored. 128 for 5 against their 19 runs. In the return against Hackwood Park, Greywell scored 125 Hackwood replied with 92, and Greywell batting against third had 9 on the board for the loss of four wickets. The result was presumably a draw.
September 7th 1889 Winchfield were all out for 37 in their first innings and declared at 59 for four in their second, Greywell scored 58 and 25 for 7. The local Derby on 13th September against Odiham is recorded as follows:- Greywell 24 all out and 76 all out. Odiham 16 all out and 24 for 5. The teams were as follows:-
GREYWELL – F.G. Cole, W.H. Parker, A. Barker, H.E. Cole, E. White, A. Poulter, F.S. Cole, W. Barker, H. Miller, F. Goffe, C. Portsmouth.
ODIHAM – T.A. Lodge, F.G. Wickham, D.A. Loader, C. Heath, A. Cooper, W. Brooks, S. Loder, J.A. Driver, J.L. Brooks, D. Roffey, Brenchley.
This was the final match of 1889, but on 26th May, 1890 Greywell did battle against Winchfield and on June 9th Greywell played Basingstoke with no result. Still, in 1890 against Winchfield, Greywell scored 137 and Winchfield 42 and 24 for four.
Greywell thrashed the Downside club, 144 against their 19 on 1st August 1890. Basingstoke mustered 40 and 38 against Greywell's 100 on 25th August, 1890. Hackwood Park on 28th scored only 17 and 27 against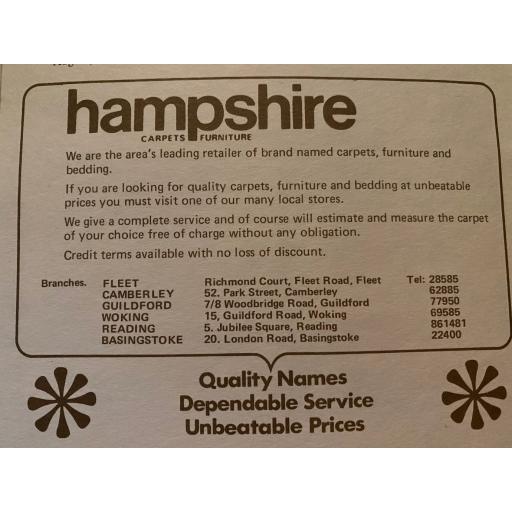 Greywell's 124. The final match for this season was against Hartley Wintney Clarence, date 30th August, 1890.
The Raynbirds and Mulfords were still active in local cricket as we open the pages of the 1891 Greywell scorebook. On June 20th, that year, Basingstoke scored 119 for 9 against Greywell's 52 and 32 for 5. Hackwood scored 112 and 67 for 2 against Greywell's 118 for 8 on the 11th July. There was obviously not too much Greywell cricket that year, since the next game did not take place until 5th September, again against Hackwood Park (Mulford with friends and mercenaries versus Raynbird with friends and mercenaries). Greywell 78 and 96. Hackwood 73 and 76 for 5.
18981 saw further activity. July 25th Greywell 130, Winchfield 75. Monday August 10th, Greywell 130, Winchfield 40 and 39 for 6.
Whilst it is possible that the scorer was inebriated, examine the following players batting scores in the July 25th 1891 match Greywell versus Winchfield
J Cordery - 12511112231211211
C R Seymour – 1111111111111111121112113211112111121113111111111111
T Maturin – 2122111221111112121211121111
By these standards such modern day players of the Odiham and Greywell Club as Simon Barder or Tim Hall are mammoth sloggers and even Doug Smith's score of 29 in 39 overs against Titchbourne Park in the North Hants league appears rapid scoring indeed! One cannot leave the Winchfield game or any other of the Greywell Club without paying particular tribute to the Barker family who appeared so regularly and with so much effect over so many years.
In a return match against Hackwood on 2nd July 1892, Seymour really got a move on in the second innings scoring 31 (1112221411331111131) out of 93. On Tuesday August 11th, (did they never work regular days?) Crookham at home scored 161 for 3, a big score in those days, and Greywell replied with 120 (H E Cole 72). The 'needle match' return was another excellent game – Greywell 86, Crookham 95.
Very noticeable in scanning the scorebook of Greywell are the low boundary scores which gives rise to the argument that modern mowers have given more the game than Boycott! For example take the August 29th game of 1891 Greywell versus Hackwood Park. The scores were Hackwood Park 69, Greywell 148 for 9. Jo Cordery scored 29 for Hackwood including one 5, C R Seymour scored 51 for Greywell and F Maturin 39. Neither scored more than three with a strike.
Greywell played Winchfield on 23rd July and 10th August 1892. Seymour in the latter game had another patient innings, this time playing for Winchfield. He extended himself scoring thirty-five singles, three twos and two threes for 44. He must have been a joy to watch! Please do not tell us that this breakdown does not add up to 44 – have you ever scored a player like this?
Greywell were hammered on 12th August, 1892 by Hackwood Park, the old enemy.
On the 23rd May 1893 Greywell played Winchfield, Greywell 105 ( A Mulford 26, H Kettel 37), Winchfield 31 and 23).
The next Greywell Book in our possession takes up the club story from 8th August 1901, and the Barkers are still very much in evidence. Matches were played versus Odiham, Hook, Winchfield etc.
The following are some of those who played for Greywell at the turn of the century:-
Ely Beagley, W.P. Cole, E. Poulter, W. Barker, A. Bridger, H.E. Cole, R. Mulford, A. Poulter, H. Lovegrove, F. Goffe, R. Barker, J. Mulford, A. Barker, C. Wilson, H. Maturin, P. Coleridge.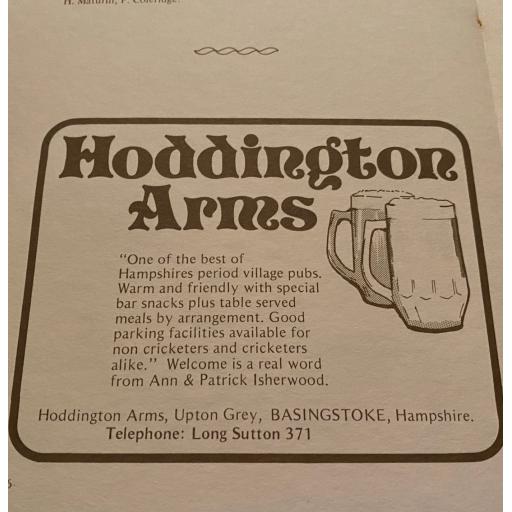 Odiham CC – Member's Memories
From 1906 to 1929, a period of 23 years, we are unable to obtain personal comments on the Odiham and Greywell Club's activity. However, in 1929 Captain Petre, Bobbie Ptre's father, started a Saturday XI at Odiham. Prior to that year Odiham cricket had been confined to a Wednesday XIsince the playing of Sunday cricket was banned in the area.
One of Captain Petre's first acts was to fence in the ground (the wicket had been enclosed earlier) and he also met the Club's expenses. It was at this time that he conscripted Alf Hill, An OGCC Life Member today, who played cricket for North Warnborough. Captain Petre's team consisted mostly of his estate employees from the Whitehall end of Odiham and since they were not, in the main, crickets they naturally lost many of their early encounters.
The first Saturday game was against Long Sutton who included Chico Yalden, a well known figure who family later not only farmed in Long Sutton but also owned the village shop, pub and milk/newspaper round. Other early Saturday games were against Up Nately, Water End and Mapledurwell.
Alf Hill remembers that transport to away games was very different from today and bicycles were a regular sight at the games. Occasionally Captain Petre conveyed his team in a horse drawn carriage no doubt conserving their energy!
Alf played in the first Sunday fixture which was also the first Sunday game of the opposition Basingstokeand it was in this game that Odiham bowler Charlie Gregory bowled Bobby Brooks first ball. Also in 1929 the current OGCC umpire S.R. Hooker played for Farnham against Odiham Wednesday XI, home and away.
After the war Alf was Captain / Secretary for Saturday, Sunday and Wednesday cricket and well remembers playing against the outstanding allrounder Arthur Barker (Another OGCC Life Member) of Greywell. Other players in this period included Dickie Baldwin – brother of an England umpire, the Clinker family, Cyril Froud (an outstanding wicket keeper) and two figures from Lord Wandworth College, Topham and Geary. However, Crondall, who played on the private estate of Ichell Manor, was the strongest side of the time and Odiham used to play their 2nd XI.
Alf finally stopped playing cricket for Odiham in 1956 having scored 11 centuries in local cricket, with a highest score for Odiham of 118 not out and having a reputation for hitting sixes over the cottages behind the pavilion at Hartley Wintney. The work he undertook during his 27 years with the club is well appreciated by us today and it gives us great pleasure to see Alf, and occasionally, Arthur Barker at the ground.
It was in the early 1950's that the Greywell Cricket Club and Odiham Club merged but unfortunately the former brought few players and no finances, and so did nothing to solve the Odiham shortage of young players.
For the period post 1956 we are indebted to Geoff Cruikshank for his information on the Club. He arrived in Odiham in 1956 to start Danetree School having spent 10 years playing cricket for Andover and one season in Basingstoke. His fine cricketing talent was highlighted by one week's achievement for Hertfordshire Cricket Club which read 164, 151, 150 n.o. and 80. He was, however, an all rounder and on one occasion took nine wickets in a club game. Wally Hammond wrote of him "Geoff Cruikshank was good enough for any top county."
On moving to Odiham in 1956 Geoff was asked to play for the Hampshire Maniacs against Alton at Odiham and this he did. He tells us that the Bedser brothers of Surrey and England fame, played with him in that match and all three of them did well enough to rob Alton victory. The then secretary of Odiham, Mr. O'Connor, conscripted Geoff Cruikshank's services at Odiham and he played for the club until 1963. In 1958 a number of fetes were help at Danetree School under the auspices of Mr and Mrs Cruikshank and a total of £750 was raised towards the building of the last pavilion on the Common, with The National Playing Fields Association contributing the balance.
Geoff remembers that when he was captain he had a good nucleus of players including Jimmie James, Clifford Ashby, Frank Poulter and Alan Stent. Bert Knight, father of current player Malcolm, was a also a useful performer and on the whole the team enjoyed some success.
Current playing member and Vice Chairman, Derek Moody, continues the story from 1966. Having arrived from Cheshire he immediately fell into the clutches of the then secretary Geoff Galliver, and was given no opportunity of playing elsewhere!
The Club Chairman at this time was Les Hollingham of Pearsons whose daughter married the current President's son. The latter has played for the Club and held many offices, including the present position of Honorary Club Auditor. The Club Captain was Eric Talbot and the star batsman, Andrew Childs of Greywell, ably supported by Ron Tyler, Charlie Porter and two active supporters of many years Stan Poulter and Lloyd Hicks.
Even in the early days of Derek's association with OGCC the playing membership was sparse. It was always a struggle until 1972 to get a side out and Eric Talbot did sterling work over many years. The beginning of June was the start of the season and on some weekends there was only one match. Clubs played during the period 1966 – 1972 included Rotherwick, Deanery XI, Hartley Wintney, Hook, Hyde Ramblers, East Woodhay, Stratfield Turgis and Sherbourne St. John with the match against Hampshire Maniacs rated a prime fixture.
When Derek took over the Captaincy in the early 70's the wicket was notable for extreme slowness since there was no mechanised rolling available. However notable achievements included a first wicket stant of 190 against Alton. Generally the batting outmatched the bowling until the arrival of Mike Vickery who became the tower of bowling strength.
Derek captained the 2nd XI league team in its first season 1975 with a squad of very inexperienced young players and sadly recorded not one victory. The first match of the 1976 league season saw the position righted and since Derek's early groundwork the 2nd league team was performed with much promise not relying, as in 1975, on him to score the majority of the total!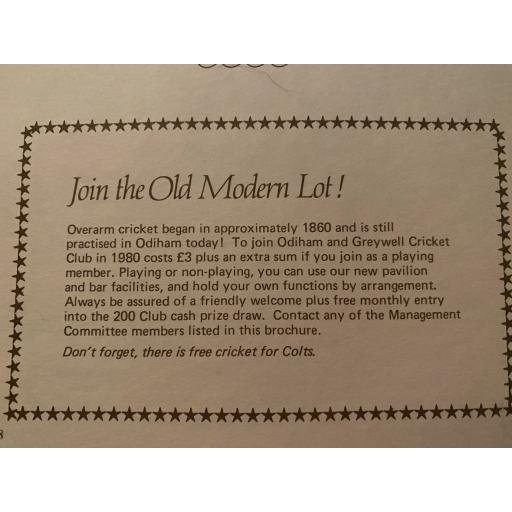 Odiham & Greywell CC – The Last Seven Years
It was during 1972, when the club was in grave danger of collapse that Malcolm Hooker arrived on the scene. He had played with his father as a boy and is today one of the great cricket enthusiasts. After qualifying as a solicitor, he firstly moved to Basingstoke and played for the Basingstoke Club. Since opportunities were scarce for spin bowlers, Malcolm moved on to the then very active Hampshire Maniacs Club where chances were better. The playing strength of the Maniacs later declined through the ravages of anno domini and so Malcolm moved on to Fleet and Hartley Wintney, when he began his practice in Fleet. Malcolm played for both clubs for a short period before deciding to throw in his lot full-time with Hartley Wintney since Fleet had a surplus of players and Hartley Wintney a deficit. Malcolm was elected captain of Hartley Wintney after this first full season with the Club and continued there for a further two years until moving to Odiham.
Michael Conville , the then Chairman of Odiham and Greywell Cricket Club, was delighted to enlist a local captain of Malcolm's local cricketing involvement and ability, since the Odiham and Greywell Cricket Club was in real danger of winding up. Malcolm was followed to Odiham by three players whom he had conscripted at Hartley Wintney, Simon Barder and John Misselbrook, both then of Odiham, and Bob Seaton, latterly of Basingstoke. Derek Moody and Geoff Galliver were at the meeting of the club when Malcolm Hooker took over the role of Club Captain and in welcoming him, with Michael Conville, they stated that the Club finance consisted of £70 approx. The AGM of the club took place whilst Malcolm was on his honeymoon and on his return he discovered that he had been formally elected Captain! Simon Barder, Secretary, John Misselbrook, Fixtures Secretary, Bob Seaton, Vice-Captain and Bill Wort as Treasurer were the other Club officers elected. The playing strength consisted of Derek Moody, Mike Vickery, Malcolm Hooker, Bob Seaton, Simon Barder and John Misselbrook. This was in February '72 and the card and team had to be filled up as best they could.
Malcolm states that the first job of the new Club administration was to find the square, which was like a cow patch. During 1972 the club arranged about 35 games and won the majority. Clubs played included Haslemere, Dogmersfield, Rotherwick, Amport, East Tisted, Fleet 2nd XI, Hindhead, Old Basing, Yateley, Churt, Longparish, Liphook, Highclere, and Frensham. Unbelievably, Simon Barder arranged a match against the Argentinian touring team which was cancelled owing to bad weather, but on the day, in a makeshift indoor football match, the Argentine understandably beat the OGCC!
In 1972, Charles Petre captained the Presidents XI which was a strong cricketing side. Malcolm remembers his first game for Odiham beating Dogmersfield on a very wet day; players for Odiham included Bob Seaton, David Jamesm Noel Selfe, Dick Houghton, Brian Sperring, John Misselbrook and John Biles. David James, the England ABA coach, was an outstanding batsman that season.
In 1973 the Club had a stronger card and again a good season resulted. In that year Malcolm began introducing young players in to the side and two of them are well known to us today, Richard Hough and Malcolm Knight.
1973 saw the Club's first tour, which was to the West Country. In 1974 the 2nd XI was started, with a bunch of players beginning in Club cricket, in some cases, in cricket itself. In 1973 the Club 1st XI entered the Hampshire League Supplementary Division and in 1974, the North Hampshire Regional League.
From 1976 the Club prospered overall, following a poor season in 1975. Steve Webb and Mike Whitburn, from the Basingstoke Club, supported the OGCC well in 1975 and 1976 contributed to the Club's second position in the league. Owing to a league reorganisation only the overall winners, Welford Park, well beaten by Odiham, were promoted to the 2nd Division.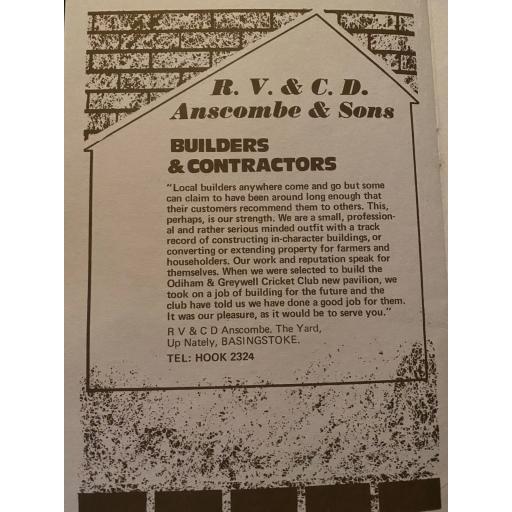 In 1977 OGCC was elected to the new County 3rd Division and under the captaincy of Robin Blunt the Club won the league and was promoted to the 2nd Division in 1978, where it remains today. The Club Sunday record against Alton, Eversley, St. Cross, Petersfield and other clubs has been creditable, and even the 1979 Sunday Moles team has had to face players of the calibre of ex-England Captain Tony Lewis.
Successful mid-week fixtures with Dublin University, Edinburgh University, Swindon and others have helped to create an all-action 100+ games per season Club. Tribute must be paid to very many people for the remarkable growth of the Club, particularly, on an organisational and playing front, Malcolm Hooker, whose boundless enthusiasm and hard work has made so much possible. In a quieter and unassuming role, current Chairman Bob Butchers has provided extra drive and vision. However, there are many, fortunately too many to mention personally, who have contributed. A few names which spring to mind, as having worked over some years, and are obviously worth listing, are John (Accounts) Misselbrookfor many activities, John 'Safe' Biles, Trevor and Richard 'Workers' Hough, Bob 'Umpire' Hooker, Paul 'Money' Thomas, Bill 'Finance' Wort, Jonty 'Machinery' Horne, Robin '3 Centuries' Blunt, Peter 'Sports' Barber, Len 'Lethal' Rawlings and Doug 'The Mole' Smith. There are many others in the past and coming on today who contributed or are beginning to contribute to the growth of a club for everyone and the Club as a whole raises their glasses to them.
Clubs who have been particularly good friends of ours over recent years include Eversley, Petersfield, Steep, Longparish and St. Cross. Outstanding combatants and local administrators met include Dennis Luff of Longparish, Owen Piercey of Old Basing, Bill Ives and Brian Timms of Basingstoke, Joe Lindsey-Clarke of Alton, Geoff Bundy of Eversley and Tony Pike of Courage's.
In completing this sort of summary of the Odiham Club's last seven years it should be noted that the team have won the Guy Jewell Cup, having beaten Courage's in a final. OGCC will play Farnham by invitation in 1981, as a celebration of that club's first recorded game which was against Odiham at Farnham. The best batting performance in the last seven years is probably between Rob Blunt, for his century for the club against the President's XI in 1979 and Dennis Longhor's 157 N.O. for Aldershot FC against the Club, also in 1979. The best bowling performance for the Club has to be Len Rawlings' 9 wickets against Fordingbridge. One of the strengths of the Club has long been in notably active Presidents, Bobby Petre, Brian Butler and now Bob Mayes, and in outstanding Chairman Mike Conville and Bob Butchers. Our lady friends have come greatly to the fore in 1979 and we look forward to their continued and increased support in a difficult period ahead. Particular tribute must be paid to 'bar-maids' Audrey Shelbourn, Gill Nief, Mary Hooker, Penny Mather, Jo Moody, Sheila Thomas, Sheila Hall, Lesley Kates and many others.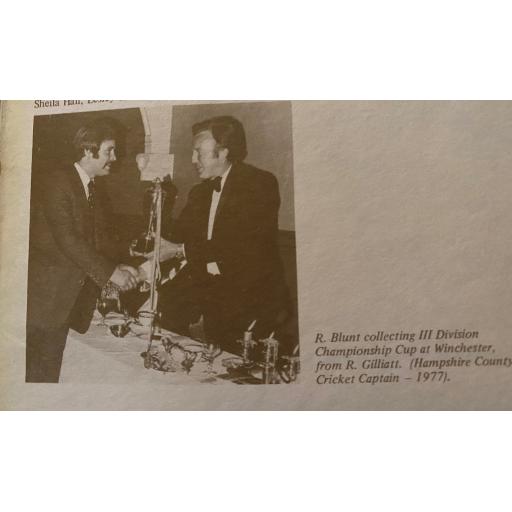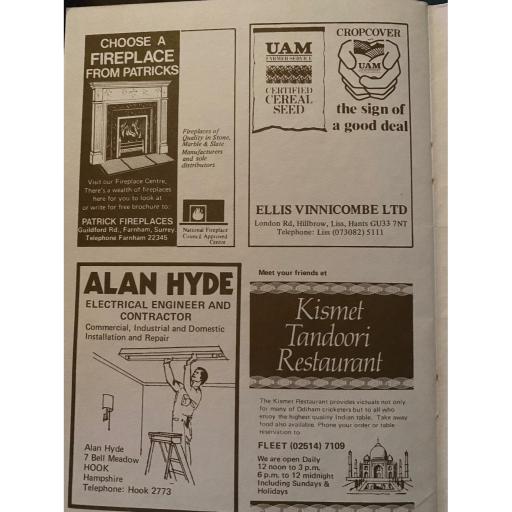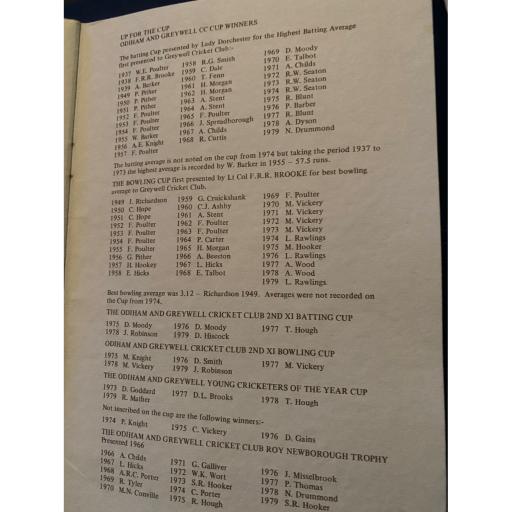 Comments from Celebrity Friends
It has been our good fortune to have made many friends over the years. We value old friendships and supporters on and off the field. Our guest speakers and guests at the Annual Dinners in recent years include:-
Ex-Yorkshire Captain Ronnie Burnet, England Bowler Geoff Arnold, Comedians Terry Scott and Arthur English, Commentator Christopher Martin-Jenkins. A few old friends have written to us with comments you may like to read:-
TONY LEWIS – Ex Galmorgan and England Cricket Captain:-
ODIHAM V. HEARTACHES.
I recall this giant encounter played in the summer of 1979 on the old field. It was a lovely summer's day; the Odiham players were friendly but competitive, confessing over a pint afterwards that "We played our reserves really, because your team are usually rubbish".
Well, my captain Tim Rice of JC Super Star and Evita fame, is not a proud man. A win is a win is a win. Mind you he can be severe. I was fielding so badly I had to feign a trip in a molehill. "Hamstring", I muttered. "Bowl the next ten overs from the road end", he replied. Jardine lives, I thought.
I batted nervously, in my mind twiddling the Heartaches 'code d'honneur' – "Never look good and score badly; look bad and score well. " For a long time I was looking bad enough and won the applause of my team-mates, but then I played strong, healthy strokes which were greeted by silence from the pavilion benches. I realised too late that Mr. Rice that Mogul of the theatre, had struck. You must neer upstage him.
The beer was the day's highspot, oh! And by the way…… let's drink to the new pitch, onto which old cricketers of Odiham will trip with new legs, impeccable line and length and the young ones will smash everyone's bowling out of sight. "Here's to great days ahead for you all".
JEFF KING – National Hunt Jockey:-
Twice I have been to play Odiham and Greywell and had a thoroughly enjoyable time with a friendly bunch of fellows. I wish the Club happy and successful days at the new ground and look forward to trying my luck on the new square.
ARTHUR ENGLISH – Comedian:-
It's Mr. Harman keeping an eye on "Odiham and Greywell Cricket Club". Wishing you all good luck, and knowing there's no need to ask "ARE YOU BEING SERVED" well in the new Pavillion".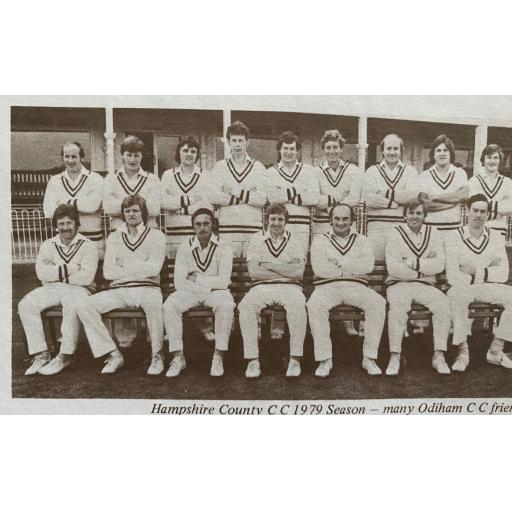 DAVID FRITH – Editor Wisden Cricket Monthly:-
"Best wishes to the O &G CC, the noisiest audience (per soul in attendance) that I've ever known. For the efforts to re-establish at a fresh ground, old David Harris himself would have been proud of you".
STEVE PERRYMAN:-
"A game of cricket can be a pleasant break for footballers. Peter Taylor and myself, plus some of the lads from Chelsea and Crystal Palace had an enjoyable day playing against Odiham & Greywell. What is more we beat them! I'm sure they will all join me in wishing the Club and supporters every happiness and success at the new ground".
JIM STANDEN:-
Although barely possible today, I managed to keep goal for such teams as Arsenal and West Ham and also play cricket for Worcester – big pressures which endear me to clubs like Odiham and Greywell, of which I am a member. Energy and endeavour never killed any players or organisation and for gritt and determination OGCC must be commended".
PHIL RICHARD:- Hampshire Cricket Society
"The Society congratulatesthe Odiham Cricket Club on its initiative and industry in finding a new ground and building a handsome pavilion and it wishes the Odiham Club every success in future".
RICHARD GILLIAT – Ex Hampshire Captain:-
"All good wishes to everyone connected with Odiham & Greywell CC for a happy and successful move to their new ground".
ALTON CRICKET CLUB:- David Kemp, Chairman.
"This club wishes Odiham and Greywell Cricket Club every success in the future and look forward to playing on the new ground".
REG DRIVER – Chairman, Aldershot Football Club:-
"The Directors and Staff wish Odiham and Greywell Cricket Club every success at their new home. Our annual visit to compete in the Longley Cup has always been an enjoyable event and is a welcome reminder that some of our Country's cherished traditions still remain".
BOB STEPHENSON – Hampshire County Captain 1979
"We admire your past, envy your future, and are both flattered and delighted to be associated with your present. Good luck from the playing staff of Hampshire County Cricket Club".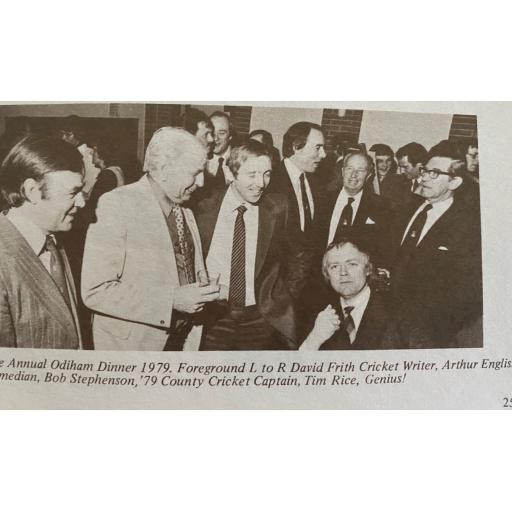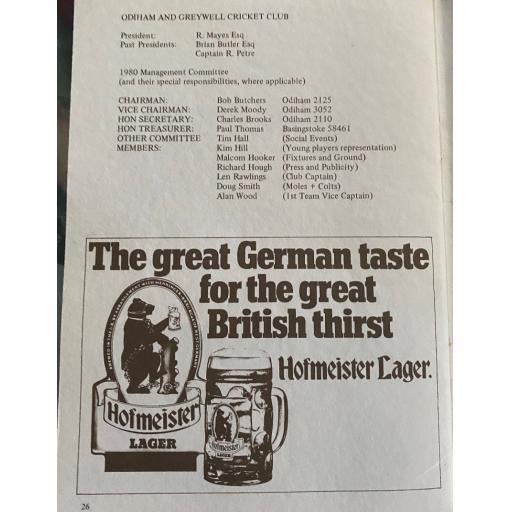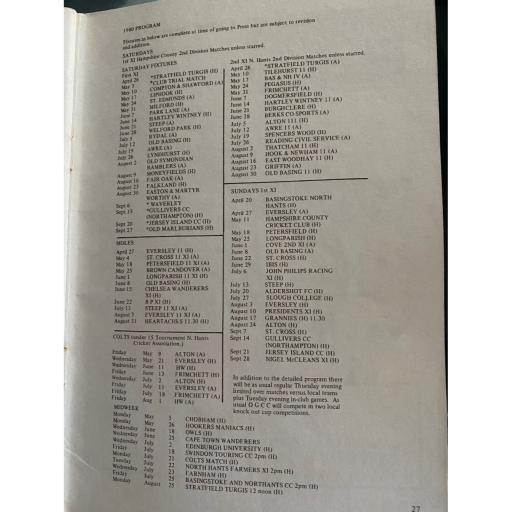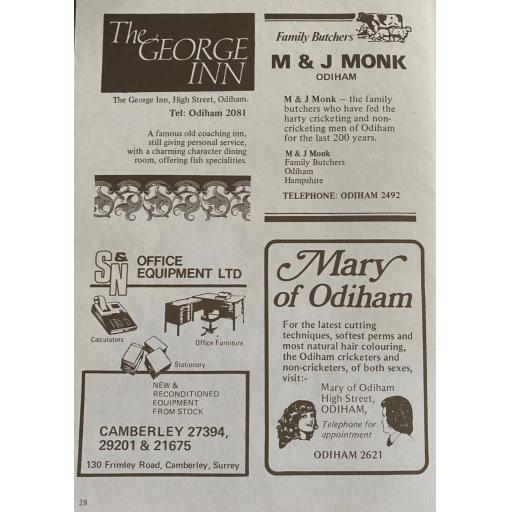 Letter from the Chairman
Odiham and Greywell Cricket Club has a long history and when it was re-formed a few years ago it was impossible to visualise the future. The year 1979 will undoubtedly go down as one of the most memorable because it marked the end of cricket at the old ground alongside the canal at Colt Hill.
Doug Smith, a loyal supporter of the Club, and instigator of re-forming or forming three local clubs, thought it an appropriate time to research and record the history of Odiham cricket. I am delighted that he has done so. It is of interest now and will prove an invaluable document to future generations.
It is not my intention to comment on the happenings before 1979 because my main task, as Chairman, has been to look to the future. The acquisition of a new site presented problems. The use of land on the Common was rejected because of wetness and insufficient area. The Close Meadow, behind The Bury, seemed suitable but was unavailable for technical reasons.
Initial negotiations to use the site in Long Lane was thwarted as the County said it was not available. This left us in a quandary and the threat of Odiham and Greywell Cricket Club becoming extinct was very real. In desperation Malcolm Hooker and myself visited Hart District Council to inspect the Town Map. By chance we mentioned that the Long Lane position was unobtainable only to be told that was not so.
That was an important day and negotiations with the County commenced within hours. Despite frustrations, a square was excavated and built by Christmas 1978. It was a biggish job and was liad with the finest turf as it had become too late to seed. For the uninitiated, a cricket square needs constant care and attention which this one received. We now had two grounds to maintain with voluntary labour. Not only two squares but two outfields to be constantly cut. It is sufficient to say that, with some difficulty, we managed.
Planning a new Clubhouse was exciting but negotiating the percentage cost with the County was a big headache. The Club was taking a big gamble which involved money in quantities new to our little organisation. It was agreed that if we had to move we would do it in a bigger way and make the new setup something of benefit to the entire community.
The Club has worked hard to raise money by various means and the result is that Odiham and Greywell Cricket Club starts the 1980 season with a splendid new ground and splendid new Clubhouse. I consider it to be a very fine effort.
I am proud to have been associated with the development and consider it to be the start of a new life for, not only Odiham Cricket, but for the town and associated villages as a whole. I visualise it becoming the most successful Social Club in the area and providing we continue to get increased support I think there will be general agreement on this point.
Bob Butchers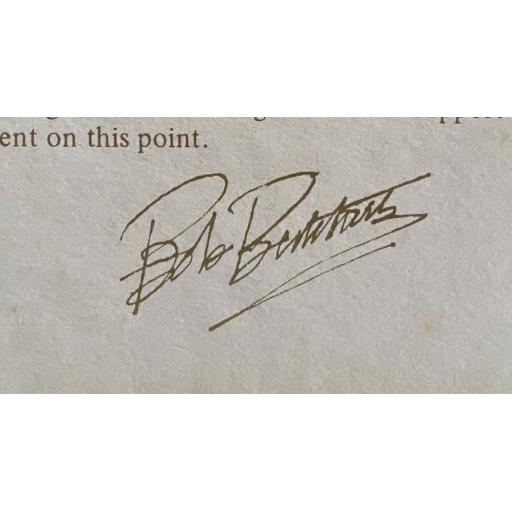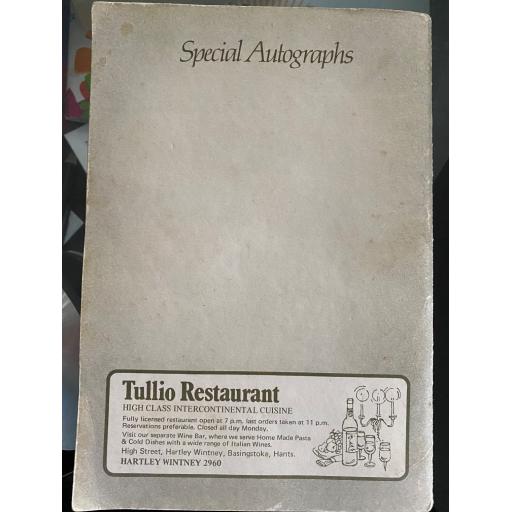 Notes from the Scribe
Long serving Grounds Man and Life Member Andrew Green kindly loaned me his copy of 'The Origins of Cricket: The History of Two Hampshire Clubs' as he thought it would be of interest. He was correct and it has been nice to learn more about the history of Odiham and Greywell Cricket Club.
I was surprised the booklet had survived from 1980 until the Autumn of 2020. It is in good condition but there are very few remaining and it would be a huge loss if the history should disappear when the last of the physical booklets decays. With an-ongoing global pandemic meaning most of us are confined to our homes, it seemed like a suitable time to convert this historic record into digital form so it can be added to the new club website and preserved for the future.
Former Club President, Alan Laycock and our old Press Officer, Stuart Hulse amongst many others have preserved a lot of newspaper clippings and match reports over the last forty years so now seems like a good time for the current custodians of the club to produce a follow up to 'The Origins of Cricket: The History of Two Hampshire Clubs' and continue the story of Odiham and Greywell Cricket Club for future generations.
Chris Knapp, Club Secretary 2020